After the fall of al-Qusayr, Assad and his Hezbollah mercenaries moved on to invade and occupy a second liberated city in Homs province, Tel Kalakh. And instead of a massive invasion of Aleppo, the besieged city of Homs was to become the next objective.
It looks like this at night: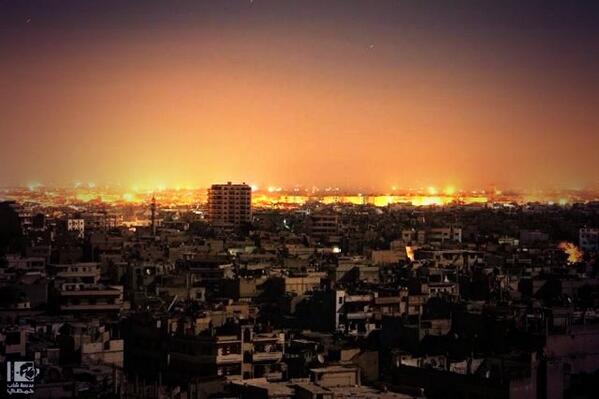 The lighted part of the city consists of the Alawite neighborhoods, which are used to launch missiles from into the besieged neighborhoods. For the past two weeks, the regime has renewed its offensive on the city and has bombarded the liberated areas like never before since the siege. Khalidiyye, where the Mosque of the Companion Khalid Ibn al-Walid is located, has suffered some of the worst bombardments.
Bombardments of al-Qusour:
Bombardments of Jouret Shayah:
Bombardments of the various besieged neighbourhoods:
The heart of Homs had already been largely destroyed, two thirds of it, and has been suffering more than any other city in the country.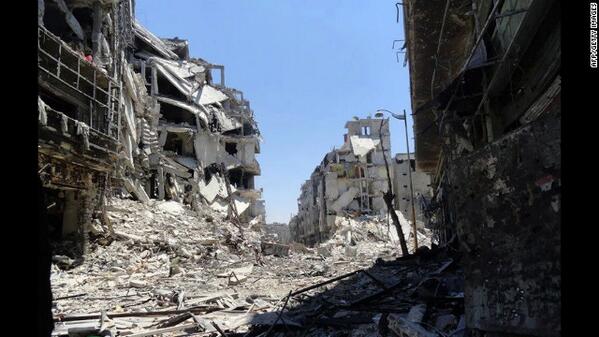 It is hard to imagine what more can possibly be destroyed, until you see the above footage of air strikes and missiles falling on what is left of the city.
Unlike in al-Qusayr, no large convoys are coming from Aleppo or elsewhere to the aid of free Homs. The city's resistance, most of them locals from the besieged neighborhoods, have been abandoned. Their message:
Q: Brother Abu Wael, we are currently in the besieged city of Homs. You, as a military commander, what is your view on the current situation here after more than a year under siege, and on the Fatwa of Jihad and sending weapons to Syria. Did any of those weapons or any men from abroad reach you?

Abu Wael: We asked for weapons and for declaring Jihad, but until this day we haven't seen anything. This is old Homs and this is one of the Mosques, the Houses of God, this is what happened to us in the city of Homs. Until this day nothing happened. We asked President Morsi, but we haven't seen anything. Ok? We haven't see anything whatsoever, no weapons and no men. We want actions, not talk. Give us weapons and we will show you who we are. The countryside is gone, al-Qusayr, Tal Kalakh…

Q: What do you say to the Syrians abroad and the scholars?

Abu Wael: To the young men …to those sitting at the sea in Tartous with their waterpipes, …where are you?

To the scholars inside the country: Three days ago I was at the Mosque of our Master Khalid Ibn al-Walid, Allah is witness of all my words, I went to Sayyidna Khalid's Mosque and entered the Mosque, there was a gathering of Salat `ala al-Nabi [sending blessings upon the Prophet] and more than 200 scholars were present, all of them with turbans …now there is no scholar left here in Homs except three, what can they do on their own? All the scholars were present at Sidi Khaled, more than 3000 people were there, where are all these people? All these well known scholars, where did they go? We say: we will not leave Homs…

The country side is gone, Qusayr is gone and Homs is under great threat. If you sold Homs, tell us. We looked for weapons in Aleppo and nobody is giving them to us. Is it about officers and brigades?…

Q: Morsi… and the Egyptian scholars gave a Fatwa for Jihad, does the Egyptian army or a popular army have to come to Syria?

Abu Wael: I tell you brother, help us! By God we don't want anything from you, don't give us men give us weapons. Give us weapons! Homs will be freed by our hands. We're from Homs, we know the area, we know how to come and go. But it's all lies!
Has Homs been sold? Has al-Qusayr been sold? Col. al-Agidi's story may not indicate it, but nevertheless contains a number of disturbing things [emphasis mine]:
Unfortunately, the military council of Qalamoun did not cooperate with us and we found that many fighters there are smugglers and not true revolutionaries. …Unfortunately, the fighters in Josiyah and Sheikh Ahmad Ammon denied us support.

…some commanders had already decided to retreat… The commanders' reaction to our arrival was unlike those of the civilians and the fighters. …fourteen local commanders voted for retreat from the town.

the senior officers who defected from the Assad army were marginalized and did not have a say in the decision-making process. …some local commanders were still thinking of retreat. Honestly, we started to understand their primary concern, which was the high number of wounded civilians and fighters. The problem of the wounded was the most worrying for the local commanders who sometimes insisted on evacuating them…

The enemy was encircling us from all directions and those who fought back were fighters from Aleppo, Deir Ezzor and al-Nusrah Front and few local fighters…
Translation from Brown Moses:
Interview With Colonel Aqidi Of The FSA On Qusayr, Jihadists, And The Supreme Military Council
Some of the fighters from Deir al-Zor who fought in Qusayr tell another story:
Long story short: Nusra's leadership gets a lot of blame. Whatever the case, Qusayr was lost and then came the rest. All that stands in Assad's way now is the city of Homs, abandoned as it is. In the meantime things are the completely opposite in Aleppo. Unlike in Homs, weapons have been reaching the city. The stalemate has been broken, new neighborhoods taken, and the regime [along with 2 million innocent civilians] came under siege.
In besieged Homs, Abdul Baset Sarout [the former national goalkeeper] is still singing after being wounded again:
Finally, from the people of besieged Homs:
For over a year we have been besieged, we have no food, no water, no electricity, we have young children among us who need milk and there is none. Where are the Muslims, where are the believers, where are the free men to save us from them. We have nothing … O revolutionaries, brigades, help us, save us from them, we're hungry …we have none besides God …May God finish you Bashar!
That water is for drinking…